On March 14 this year, thinkScience made its public debut at the Auckland Arts Festival with a day-long series of events within the Festival programme. Or, as our supporter and friend, Nat Torkington put it, thinkScience shipped its first product. The startup theme was apt, as the day began with panel discussions in the Festival's Spiegeltent, looking at how cities work; the natural, technological, and human networks they contain, and their ability to nurture new ideas. The panels brought together scientists and scholars Tim Hazeldine, Steve Pointing, Cather Simpson, Shaun Hendy and Ella Henry, social entrepreneur Lillian Grace, and Vend's Vaughan Rowsell and Xero's Victoria Crone, all deftly steered by Jon Bridges.
Aucklanders were promised that thinkScience would "Blow things up, blow things over and blow your mind!" and we made good on that commitment to an audience of 1,400 with Michelle Dickinson's Nanogirl show at the Town Hall. The show itself was spectacular and the explosions were, indeed, awesome. My day was made when one father told me that the best part of the show for him was watching his daughter watch Nanogirl on stage, and dream about what she might do with her life.
Nanogirl - Live at the Town Hall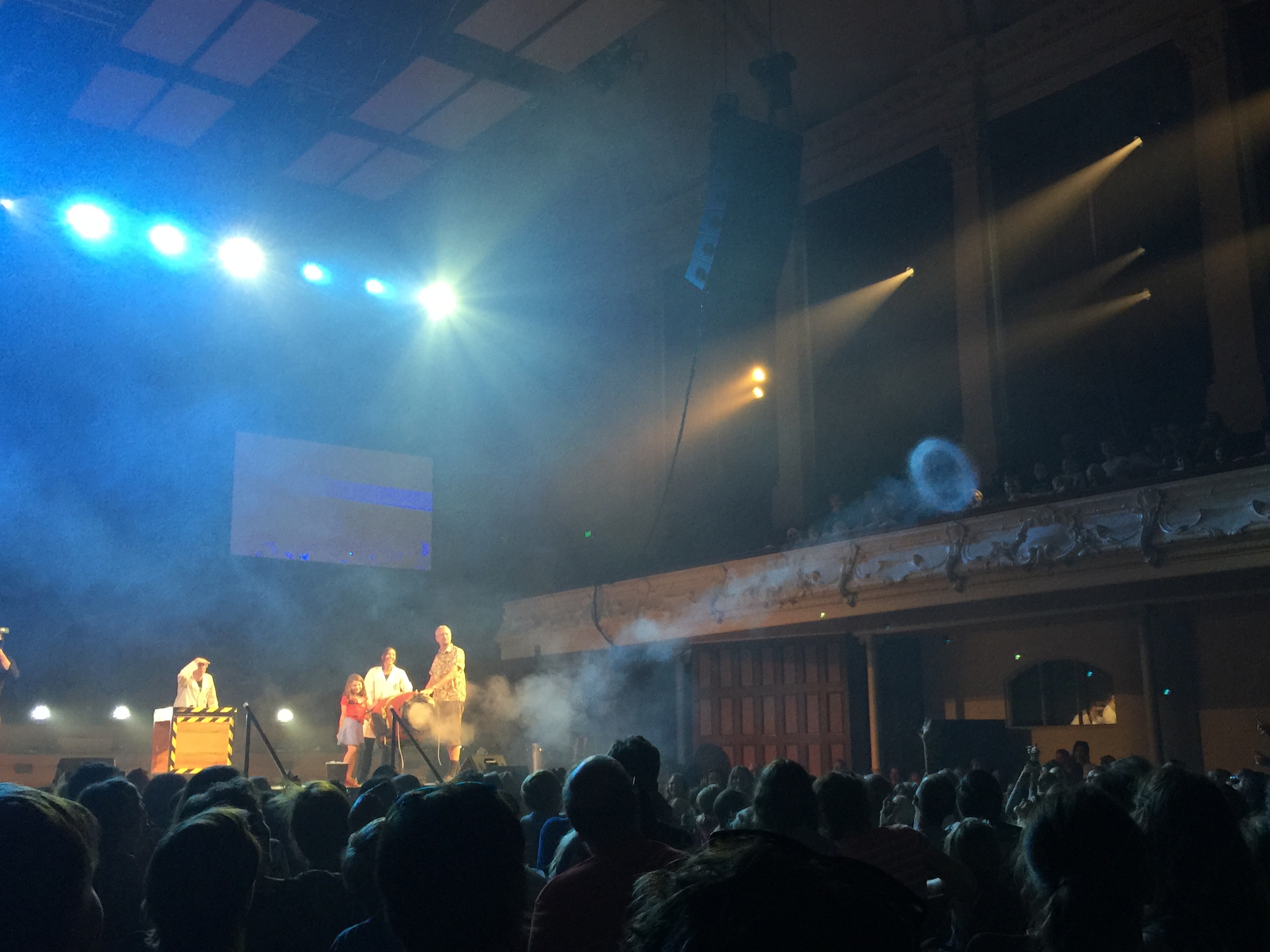 Outside in Aotea Square, Siouxsie Wiles and a band of helpers spent the afternoon running the Glowbooth, taking photographs of passers-by in the light of bioluminescent bacteria.
And in the aptly named Vault of the adjacent Q Theatre, Siouxsie and seven artists created images on arrays of petri dishes, "painting" with the same bugs that power the Glowbooth. These evanescent works lived only as long as the bacteria themselves, providing a fertile medium for a playful interaction between art and science.
As an organisation, thinkScience is lucky enough to be nurtured and supported by the Auckland Arts Festival and its talented staff, especially Gareth Baston who wrangled explosions and petri dishes with equal panache. The event harnessed a dream team of New Zealand science communicators – Michelle Dickinson, Shaun Hendy and Siouxsie Wiles are all winners of the Prime Minister's Science Media Communication Prize – and was sponsored by the University of Auckland, MBIE, Te Punaha Matatini, the MacDiarmid Institute, the Maurice Wilkins Centre and the Foundation North, previously the ASB Community Trust. Finally, an "angel investment" from Ian Kuperus of Tax Management NZ got us off to a flying start as we launched thinkScience.
thinkScience grew out of a coffee-date I had with Auckland movers and shakers Victoria Carter and Robby Hickman just before Christmas in 2013, thanks to connections made by Jolisa Gracewood. We have a slew of plans for the future, including building a bigger base of supporters (thinkScience is now a charitable trust, thanks to pro bono legal services from Buddle Findlay), and are committed to fostering public engagement with the science that lets us understand our world and to construct its future. Stay tuned.